Good morning Thursday friends. Below is our passage for reflection today should we have been able to meet for our service. I include a question to ponder withe the help of Seiger Koder's image of Jesus and Simon of Cyrene!
John 15:9-17
Jesus said to his disciples, "As the Father has loved me, so I have loved you; abide in my love. If you keep my commandments, you will abide in my love, just as I have kept my Father's commandments and abide in his love. I have said these things to you so that my joy may be in you, and that your joy may be complete. "This is my commandment, that you love one another as I have loved you. No one has greater love than this, to lay down one's life for one's friends. You are my friends if you do what I command you. I do not call you servants any longer, because the servant does not know what the master is doing; but I have called you friends …
WHAT DOES IT MEAN TO BE A FRIEND OF JESUS?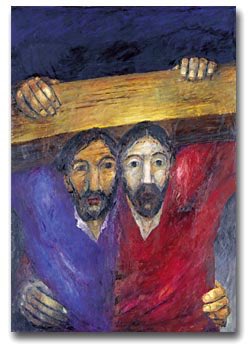 Doug
Rev'd Doug Heming
For news on services and events in the Benefice visit:
https://ourbenefice.wordpress.com or
http://www.facebook.com/The-Churches-of-Seighford-Chebsey-and-Norton-Bridge-Ellenhall-and-Ranton
Sunday Sermons Available at: Sermons